About This Game
The year is 2036.
A quarter-century after nuclear war devastated the earth, a few thousand survivors still cling to existence beneath the ruins of Moscow, in the tunnels of the Metro.
They have struggled against the poisoned elements, fought mutated beasts and paranormal horrors, and suffered the flames of civil war.
But now, as Artyom, you must flee the Metro and lead a band of Spartan Rangers on an incredible, continent-spanning journey across post-apocalyptic Russia in search of a new life in the East.
Metro Exodus is an epic, story-driven first person shooter from 4A Games that blends deadly combat and stealth with exploration and survival horror in one of the most immersive game worlds ever created.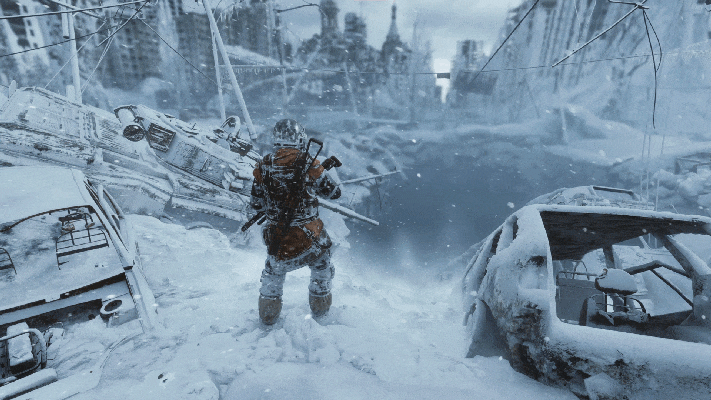 Explore the Russian wilderness across vast, non-linear levels and follow a thrilling story-line that spans an entire year through spring, summer and autumn to the depths of nuclear winter.
Inspired by the novels of Dmitry Glukhovsky, Metro Exodus continues Artyom's story in the greatest Metro adventure yet.

Features
Embark on an incredible journey – board the Aurora, a heavily modified steam locomotive, and join a handful of survivors as they search for a new life in the East
Experience Sandbox Survival – a gripping story links together classic Metro gameplay with new huge, non-linear levels
A beautiful, hostile world – discover the post-apocalyptic Russian wilderness, brought to life with stunning day / night cycles and dynamic weather
Deadly combat and stealth – scavenge and craft in the field to customize your arsenal of hand-made weaponry, and engage human and mutant foes in thrilling tactical combat
Your choices determine your comrades' fate – not all your companions will survive the journey; your decisions have consequence in a gripping storyline that offers massive re-playability
The ultimate in atmosphere and immersion – a flickering candle in the darkness; a ragged gasp as your gasmask frosts over; the howl of a mutant on the night wind – Metro will immerse and terrify you like no other game…
Product Info
WARNING: This is a restricted product and it can be activated and played ONLY in Europe.
Multiplayer: NO
Platform: STEAM
Publisher: Deep Silver
Website:
Click here
Release Date: 14 February 2019Game Languages
English, French, Italian, German, Spanish – Spain, Czech, Polish, Portuguese – Brazil, Russian, Korean, Simplified Chinese, Traditional Chinese, Ukrainian, Japanese
System Requirements
Minimum:
Requires a 64-bit processor and operating system
OS: Windows 7/8/10
Processor: Intel Core i5-4440 or equivalent
Memory: 8 GB RAM
Graphics: GeForce GTX 670 / GeForce GTX 1050 / AMD Radeon HD 7870
DirectX: Version 11
Storage: 59 GB available space
Sound Card: DirectX Compatible Sound Card
Recommended:
Requires a 64-bit processor and operating system
OS: Windows 10
Processor: Intel Core i7-4770k or equivalent or equivalent
Memory: 8 GB RAM
Graphics: GGeForce GTX 1070 / GeForce RTX 2060 / AMD RX VEGA 56
DirectX: Version 12
Storage: 59 GB available space
Sound Card: DirectX Compatible Sound Card
Product Activation
How to activate a Game Code in Steam
In order to add games purchased through a third party to your Steam account, you'll need the activation code from the third party retailer. You can either redeem codes on the Steam website or via the Steam desktop application.
To redeem a code in the Steam application, open Steam on your computer and from the top navigation bar, select "Games" and then "Activate a Product on Steam…" to start the product activation wizard.
To redeem a code via the Steam website instead, head to the Activate a Product on Steam page and sign in with your Steam account. Enter the product key here and go through the wizard. The website works basically the same as the Activate a Product on Steam option in the Steam client, but it can be used even if you don't have Steam installed on your current device. You could even access this website from your phone.
On the first page of the wizard, you'll be prompted to get your code ready, click "Next" when you're ready.
On the next screen agree to the terms of service by clicking "I Agree". On the next page of the activation wizard, enter your product code in the slot and click "Next". Do note that the name given to the activation codes is rarely "Steam Key" when you're buying from a different retailer and it may be labeled "Digital Activation Code", "Product Code", or some variation there of. The important part is that the retailer you purchase from notes that the key can be redeemed on Steam and that it is formatted like the examples seen below.
On the last screen, you'll see a confirmation of the game title as well as a button that allows you to print a receipt of the game activation transaction. The only difference between what you see on the screen and what is printed out is that the printout includes your Steam username and a confirmation code in addition to the game title. Click finish when you're done reviewing and/or printing the information on the final screen.
After you exit the activation wizard, you'll see the game you just activated in your library, like so:
Simply click on the "Install" button, like you would any other Steam game, to download the game and get started playing it.
Gameplay Video