About This Game
El Presidente is back!


Play on large archipelagos for the first time in the series. Manage multiple islands at the same time and adapt to various new challenges.

Send your agents on raids to foreign lands to steal world wonders and monuments, to add them to your collection.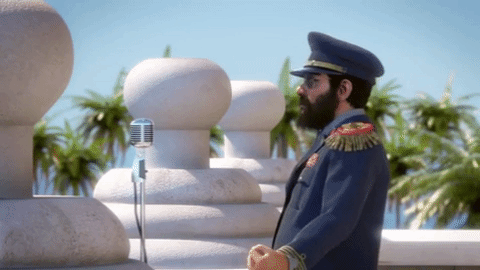 Build bridges, construct tunnels and transport your citizens and tourists in taxis, buses and aerial cable cars. Tropico 6 offers completely new transportation and infrastructure possibilities.

Customize the looks of your palace at will and choose from various extras.

Tropico 6 features a revised research system focusing on the political aspects of being the world's greatest dictator.

Election speeches are back! Address the people and make promises that you can't possibly keep.

Online multiplayer for up to 4 players.

In times of political turmoil and social unrest, the people are calling for visionary leaders, who will steer the fate of their country with foresight and ingenuity. Prove yourself once again as a feared dictator or peace-loving statesman on the island state of Tropico and shape the fate of your very own banana republic through four distinctive eras. Face new challenges on the international stage and always keep the needs of your people in mind.
For the first time in the series, manage extensive archipelagos, build bridges to connect your islands and use new means of transportation and infrastructure. Send your Tropicans on raids to steal the wonders of the world, including the Statue of Liberty and the Eiffel Tower. Customize your palace at will and give election speeches from your balcony, to win the favor of your subjects.
Product Info
WARNING: This is a restricted product and it can be activated and played ONLY in Europe.
Multiplayer: no
Platform: STEAM
Publisher: Kalypso Media
Website: Click here
Release Date: 29 March 2019
Game Languages
English, French, Italian, German, Spanish – Spain, Portuguese – Brazil, Russian, Korean, Simplified Chinese
System Requirements
Minimum:
Requires a 64-bit processor and operating system
OS: Windows 7 64-bit
Processor: AMD or Intel, 3 GHz (AMD A10 7850K, Intel i3-2000)
Memory: 8 GB RAM
Graphics: AMD/NVIDIA dedicated GPU, 2GB dedicated VRAM (Radeon HD 7870, Geforce GTX 750)
DirectX: Version 11
Storage: 16 GB available space
Recommended:
Requires a 64-bit processor and operating system
OS: Windows 10 64-bit
Processor: AMD or Intel, 3.3 GHz (AMD FX 8300, Intel i5 3000)
Memory: 16 GB RAM
Graphics: AMD/NVIDIA dedicated GPU, 4GB dedicated VRAM (Radeon R9 380, Geforce GTX 960)
Storage: 16 GB available space
Product Activation
How to activate a Game Code in Steam
In order to add games purchased through a third party to your Steam account, you'll need the activation code from the third party retailer. You can either redeem codes on the Steam website or via the Steam desktop application.
To redeem a code in the Steam application, open Steam on your computer and from the top navigation bar, select "Games" and then "Activate a Product on Steam…" to start the product activation wizard.
To redeem a code via the Steam website instead, head to the Activate a Product on Steam page and sign in with your Steam account. Enter the product key here and go through the wizard. The website works basically the same as the Activate a Product on Steam option in the Steam client, but it can be used even if you don't have Steam installed on your current device. You could even access this website from your phone.
On the first page of the wizard, you'll be prompted to get your code ready, click "Next" when you're ready.
On the next screen agree to the terms of service by clicking "I Agree". On the next page of the activation wizard, enter your product code in the slot and click "Next". Do note that the name given to the activation codes is rarely "Steam Key" when you're buying from a different retailer and it may be labeled "Digital Activation Code", "Product Code", or some variation there of. The important part is that the retailer you purchase from notes that the key can be redeemed on Steam and that it is formatted like the examples seen below.
On the last screen, you'll see a confirmation of the game title as well as a button that allows you to print a receipt of the game activation transaction. The only difference between what you see on the screen and what is printed out is that the printout includes your Steam username and a confirmation code in addition to the game title. Click finish when you're done reviewing and/or printing the information on the final screen.
After you exit the activation wizard, you'll see the game you just activated in your library, like so:
Simply click on the "Install" button, like you would any other Steam game, to download the game and get started playing it.
Gameplay Video